Nike+ Training Club - "NTC"
When I joined Nike in 2008, one of my first assignments, as Global Digital Brand Director for Women's Training, was to create an experience that gave our training products purpose. The consumer insights were that consumers needed guidance on how to work out and they needed motivation.
I created Nike+ Training Club as the solution and innovation to meet those consumer needs - including the original concept, production and launch. By building an iPhone app, we could provide consumers with training content on their phones and keep them connected to their friends to help them stay motivated.
NTC launched in Jan 2009 and was Nike's first iPhone app. But - it is more than an app. Nike+ Training Club is a digital experience, there are live events around the world and it is a global community of Nike consumers, trainers and athletes.
Today, Nike+ Training Club is available in more than 18 languages and in 146 countries. And, it has been downloaded more than 30 million times. It has been the #1 health and fitness app in more than 23 countries.
The images and videos on this page will show the journey from the launch in 2009 to today.
2012 Webby Award Mobile: Nike Training Club
2011 Wall Street Journal Best Ad: Nike Training Club
2011 Bronze Clio: Nike Training Club (Interactive Division)
2011 Creative Review: Nike Training Club (In Book)
2011 IAB Creative Showcase: Nike Training Club
2011 FWA Mobile Site of the Day: Nike Training Club
2011 NMA - Best Use of Mobile: Nike Training Club Mobile
2011 WSJ Best Ad of 2011: Nike Training Club Mobile
2011 Cannes Cyber Lion: Nike Training Club Mobile
2010 HIVE awards: Nike Training Club Mobile
2010 Communication Arts: Nike Training Club
2009 Cannes Cyber Lion: Nike Training Club
Nike+ Training Club is your ultimate personal trainer. The 2016 release of Nike+ Training Club was an all new build. The new app includes 150+ workouts including strength to endurance to mobility and yoga. This version of the app is dual gender and features world-class Nike Trainers. The digital experience provides a meaningful weekly connection to Nike consumers. Since launch, weekly average users and engagement have hit new record highs. Performance year over year: +88% weekly active users, +150% workouts started, +34% new members.
2016 Launch Overview
Key features: 150+ workouts created by the world's best trainers, personalized training plans that adapt to you and your schedule, workouts varied by duration, body weight or equipment. And similar to previous releases, this version also features workouts inspired by professional Nike athletes.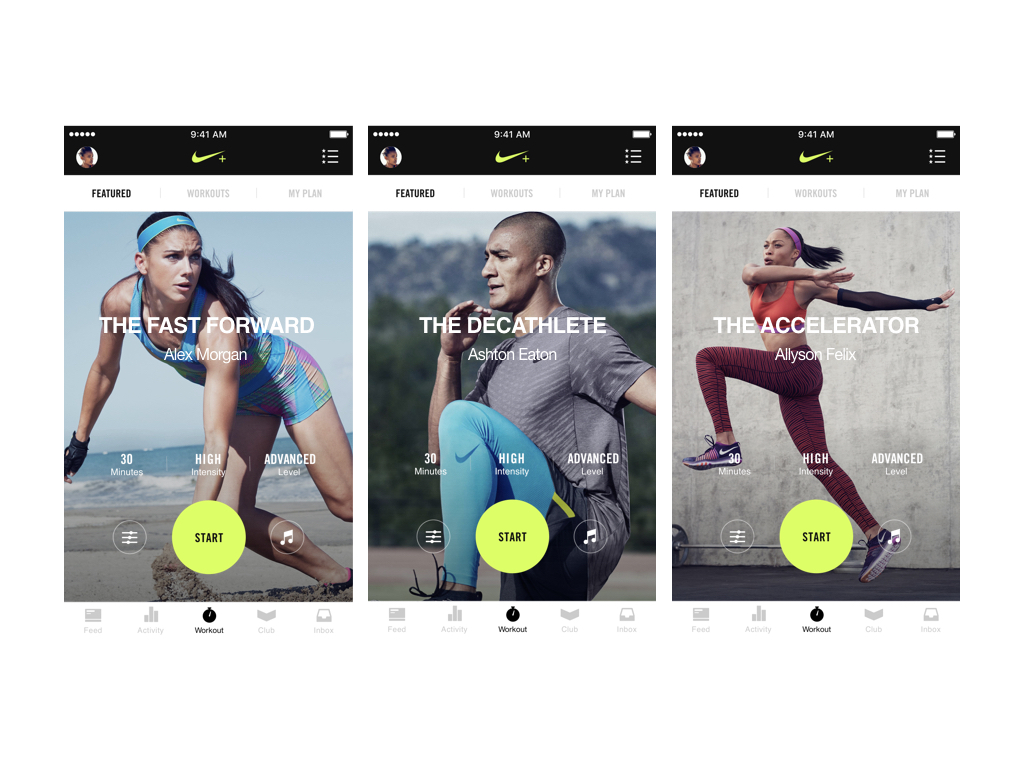 Athlete workouts
Examples of athletes featured in Nike+ Training Club: Serena Williams, Cristiano Ronaldo, Allyson Felix, Kyrie Irving, Alex Morgan, Rory Mcilroy, Simone Biles, Roger Federer, Elena Della Donne, Ashton Eaton and Madison Keys. Additional athletes are added by season.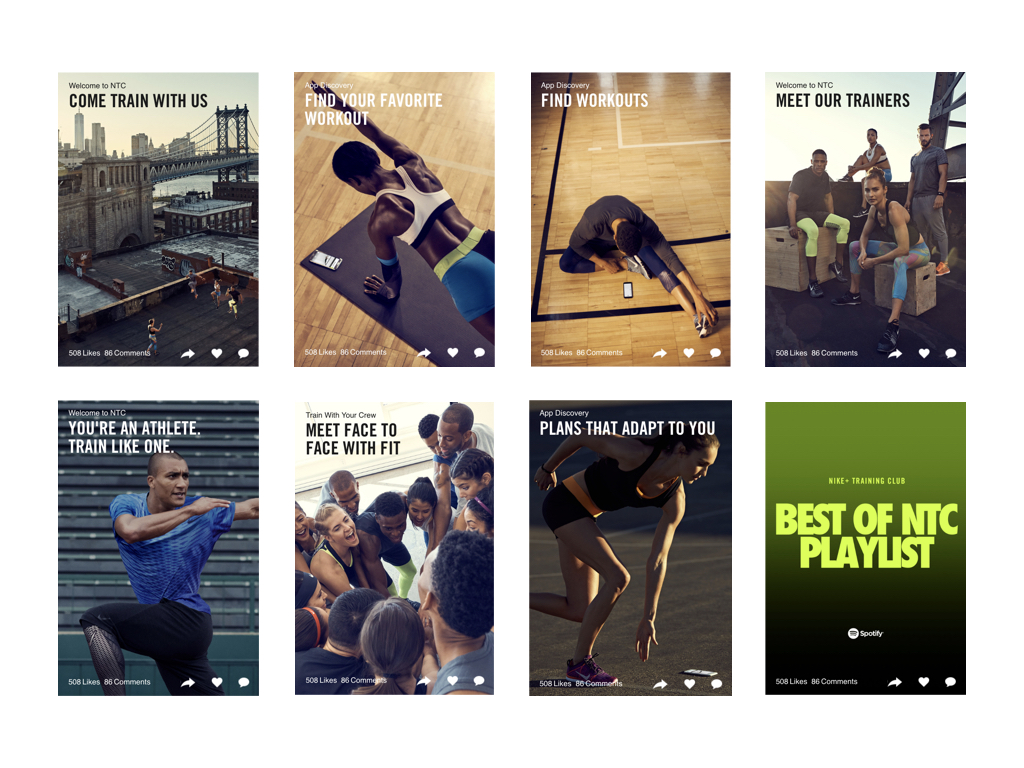 Engagement in the NTC Feed
Nike+ Training Club has a social feed to help all members stay up to date on new workouts, training products, playlists, nutrition tips and offers.
Influencer Marketing: Serena Williams and Kevin Hart name their Nike+ Training Club workout
We worked with Grand Slam Champion Serena Williams and Celebrity/Entertainer Kevin Hart on the launch of Nike+ Training Club in 2016. This release was the first time we started promoting Nike+ Training Club as a dual gender experience. Serena Williams has been with NTC since the beginning. Her personal relationship with Kevin Hart made the short clips fun and entertaining for both women and men. This post on Instagram became one of Nike's most "liked" post ever.
Influencer Marketing: "Waterhamstringitis"
Part of the culture of training is having fun and the in-between moments you share with the people you train with on your journey. There were 8 videos for the Hart Serena campaign that we launched across Nike channels, social and influencer channels.
Live Events: NikeWomen Victory Tour 2016
Nike+ Training Club started as a women's focused experience. It has inspired women all over the world to train and to get fit. As part of fueling consumer motivation, NikeWomen created the NikeWomen Victory Tour to invite the community to come train, run and enjoy being part of the Nike community. This tour stopped at key cities all over the world and hosted thousands of women. Athens. Buenos Aires. Hong Kong. Istanbul. Jakarta. London. Los Angeles. Manila. Mexico City. Nagoya. Rio De Janeiro. Seoul. Sydney. Taipei. Tokyo. These events helped to define the culture of the Nike+ Training Club.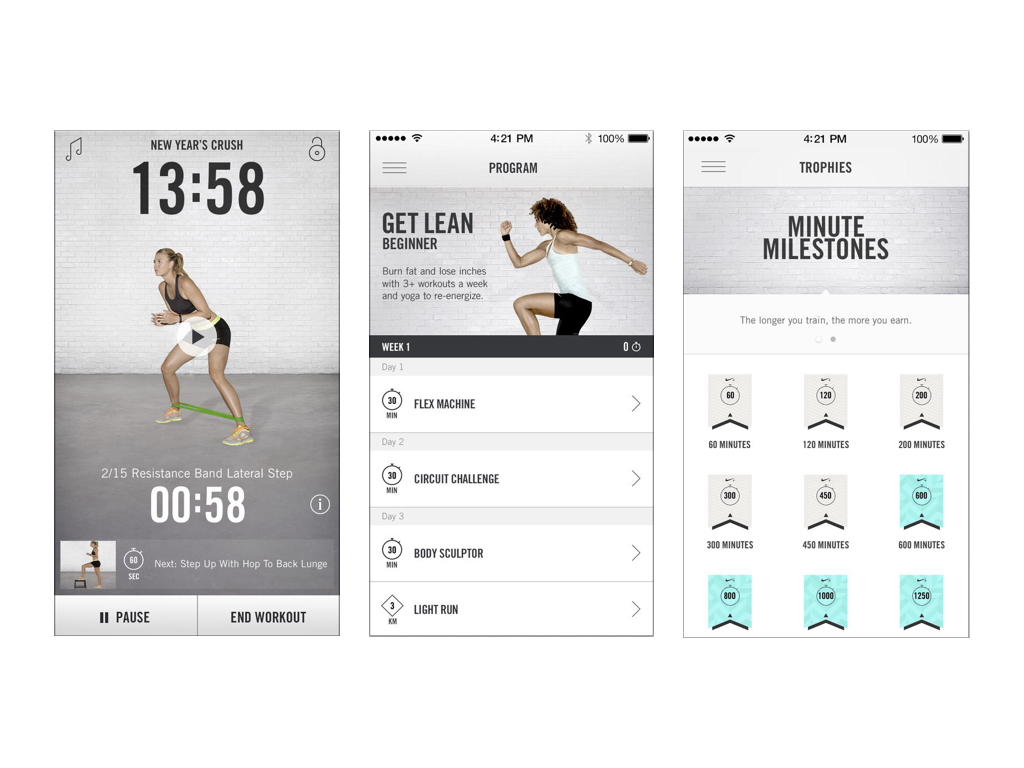 Nike+ Training Club 2011
In 2011, Nike introduced the second major release for Nike+ Training Club. This version was focused for women but still had many male members. The upgrades for this version included making the experience more real, adding more engagement through milestones, music and celebrity trainers.
2011 Launch Overview
Winner of a Cannes Cyber Lion. Voted "Best Ad" by the WSJ. Winner of a Clio - Interactive.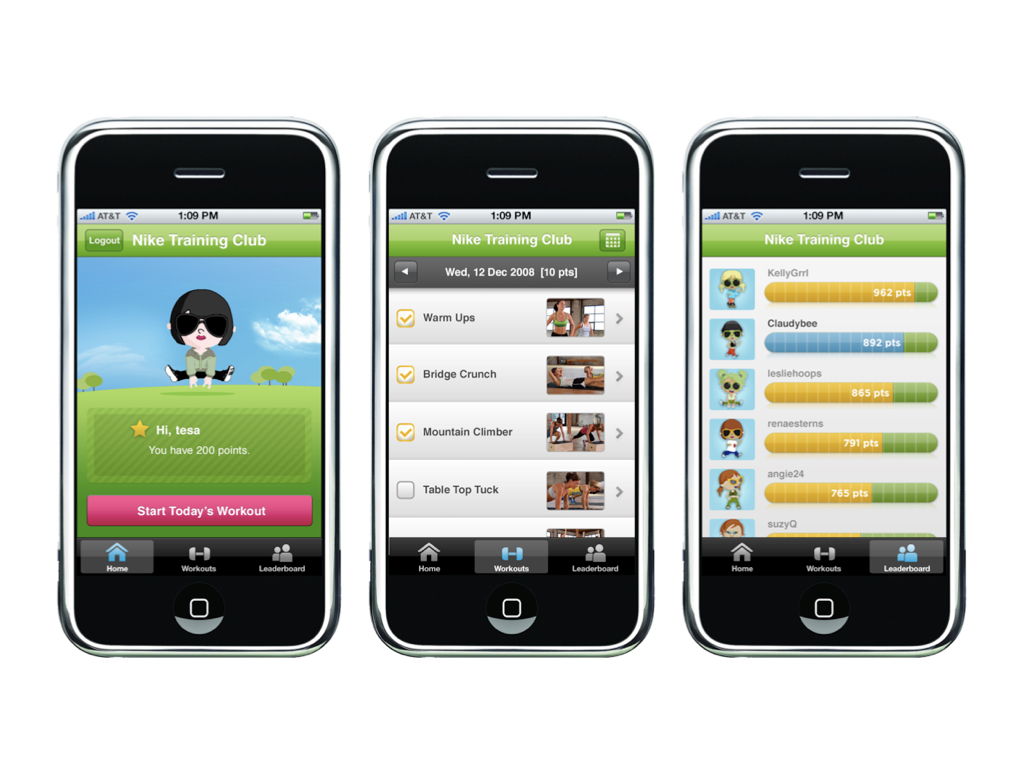 Nike+ Training Club Beta Launch 2009
When I created the first version on Nike+ Training Club, we leveraged Nike+ "minis" that were part of a web based campaign for Nike Running. You created your "mini", selected a type of workout and invited your friends to help you stay motivated. This innovation inspired a new way of connecting and serving consumers at Nike. It was a new way for Nike categories to engage with consumers 2-3 times a week, 30+ minutes a session, in a way that helped Nike learn how to better serve the consumer needs. Winner of a Cannes Cyber Lion. Award winner for Communication Arts.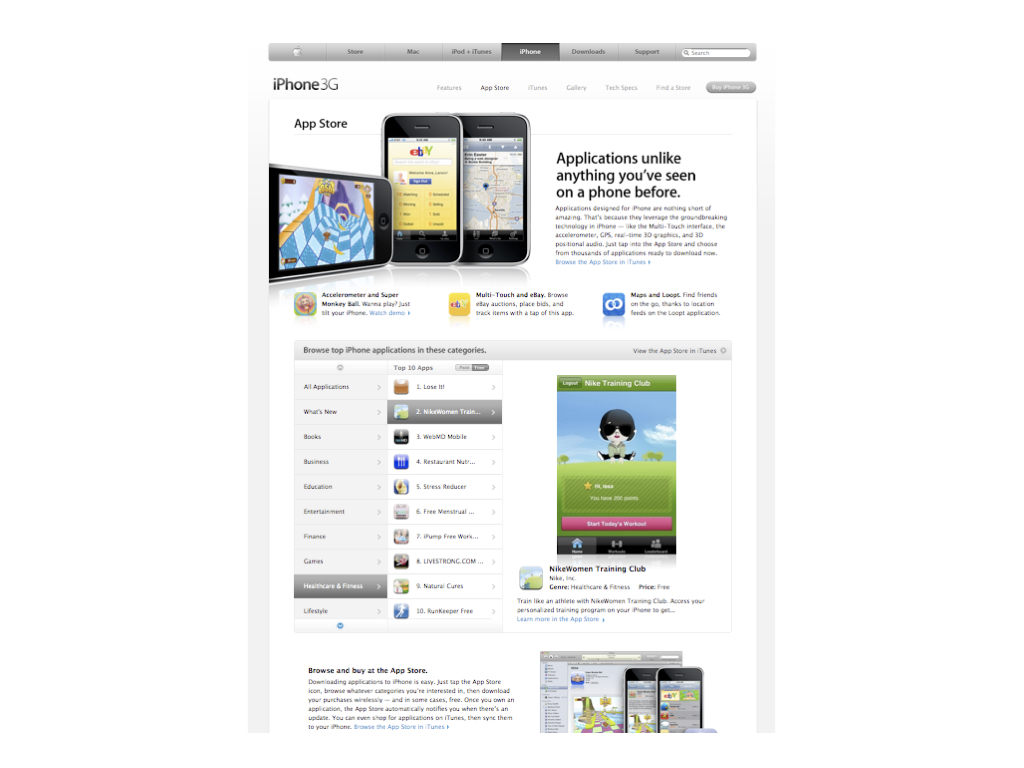 Nike Apple Partnership
This was the launch of Nike's first global iPhone app. In partnership with Apple, Nike+ Training Club was featured on Apple.com. in Apple retail and at MacWorld.
Shortly after the success of the NTC launch, Nike roled out a mobile experience for Nike+ Running. And, Nike created the Digital Sport division of Nike focus on building Digital Products and Services - of which I was one of the first 13 members.